Our Team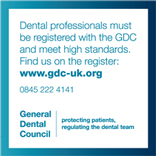 University Dental Centre offers both NHS and Private dentistry to the entire family.
All our dentists adhere to the rules governing the profession under strict guidance from the General Dental Council (GDC) "Standards for Dental Professionals".
Our Practice Manager is Katarina Velo
Dentists
Dr Faika Ahsan
BDS Lond 1988
GDC No. 75031
Faika Ahsan qualified from Kings College London in 1998. She has worked at the University Dental Centre since 2001 providing both NHS and private treatment. During this time Faika has built up a rapport with her patients. Faika has a caring and empathetic approach enabling patients to feel relaxed and at ease when having treatment.
Dr Samra Iqbal
BDS Birmingham 2000
GDC No. 78371
Samra Iqbal qualified in 2000 from the University of Birmingham. She has been practicing at University Dental Centre since 2003 providing general dental services to the local community. Sam is also an accredited Clear Orthodontic Aligner and Inman Aligner practitioner.
Samra completed her certified training for the provision of botox and dermal fillers in 2010 and offers these non-surgical cosmetic treatments at the practice.
Dr Ana Tavares Marques De Queiros
LMD Lisbon 2009
GDC No. 185858
After graduating in 2008 by Fernando Pessoa University in Portugal, Ana moved to England where she started her path helping people to smile.
She started her career in a small practice in Somerset and has since moved to Reading where she is helping NHS and private patients with their oral health and confident smiles.
She has a special interest in providing dentistry for young patients and children and is known for her ability to reassure nervous, apprehensive patients.
Ana provides general dentistry and also cosmetic treatments including veneers and crowns.
Dr. Samira Arshad
BDS University of Sheffield 2009
GDC No. 177499
Dr. Samira Arshad graduated from the University of Sheffield in 2009. Following this she completed the MJDF examinations in London in 2012. Samira has worked in dental practices in the north and the south of England, providing NHS and private dental care for her patients. She has a deep commitment to continual professional development in dentistry.
Samira has a caring and friendly manner towards her patients, and aims to provide them with the very best of dental care in a relaxed environment.
Dr. Shabbir Khambalia
BDS Lond 1988
GDC No. 63991
Dr Khambalia qualified with Bachelor of Dental Surgery BDS 1988 from Royal London Hospital Medical College, University of London. After qualifying, he worked in government hospital in Daressalaam, Tanzania for 1 year, then as an associate dentist in Belvedere, Kent for 2 years before opening his own practice in Bloomsbury, Central London in 1990. Shabbir was the principal dentist there for 21 years before joining Inspire Dental Practice group in 2011. He has been working at University Dental Centre from 2018.
Shabbir gained a Diploma in Restorative Dentistry from Eastman Dental Hospital 1996.
Hygienist
Veronika Felker
Registered under s36C of the Dentists Act 1984 2014
GDC No. 157540
Veronika started her dental career as a dental nurse in 2007 in Reading and in 2011 studied in Budapest to become a dental hygienist.
Veronika received her GDC registration in 2014 as a Dental Hygienist.
Veronika lives with her partner and their son. In her free time she enjoys dancing, travelling, reading, gardening and animals. Her native tongue is Hungarian.
Lindsey Rose
CEB Cert in Dental Hygiene 1990
GDC No. 3924
Lindsey has had 30 years' experience in dentistry and qualified as a hygienist at Charles Clifford Hospital Sheffield in 1990. She especially enjoys working with nervous patients. She has a genuine approachable personality.
Mica Cyrus
BSc (Hons) in Dental Hygiene University of Portsmouth 2022, National Certificate NEBDN 2010
GDC No. 213862
Mica achieved her NEBDN in 2010 at University Dental Centre. In 2019, she decided she would like to progress her career and she began studying to become a Dental Hygienist at the University of Portsmouth, qualifying with a BSc (Hons) in Dental Hygiene in 2022.
Mica was delighted to re-join University Dental Centre as a Hygienist in 2022, as she had loved her time at the practice as a nurse.
Mica finds it very rewarding when her patients listen to her oral hygiene advice and return for their next appointment with healthier gums – it gives her a sense of great fulfilment. Mica also enjoys informing and educating patients about the importance of oral health and how periodontal disease links to other health conditions.
In her spare time, Mica enjoys attending music concerts and festivals, and loves travelling. She also loves spending time with family, especially long walks on a Sunday with her partner and dog, followed by a roast dinner she hasn't had to cook!